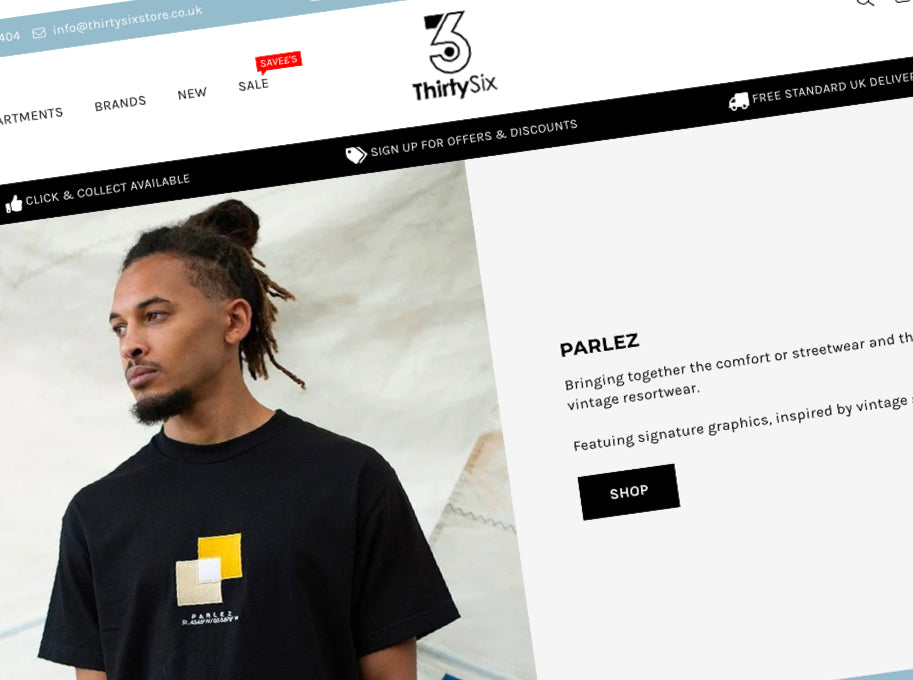 Moving your retail website over to Shopify
My client, Thirty Six, are a small, niche mens fashion boutique based in Cirencester, UK. They found that their previous eCommerce platform became a little to expensive for them to use and manage. They decided to look for an alternative retail website solution.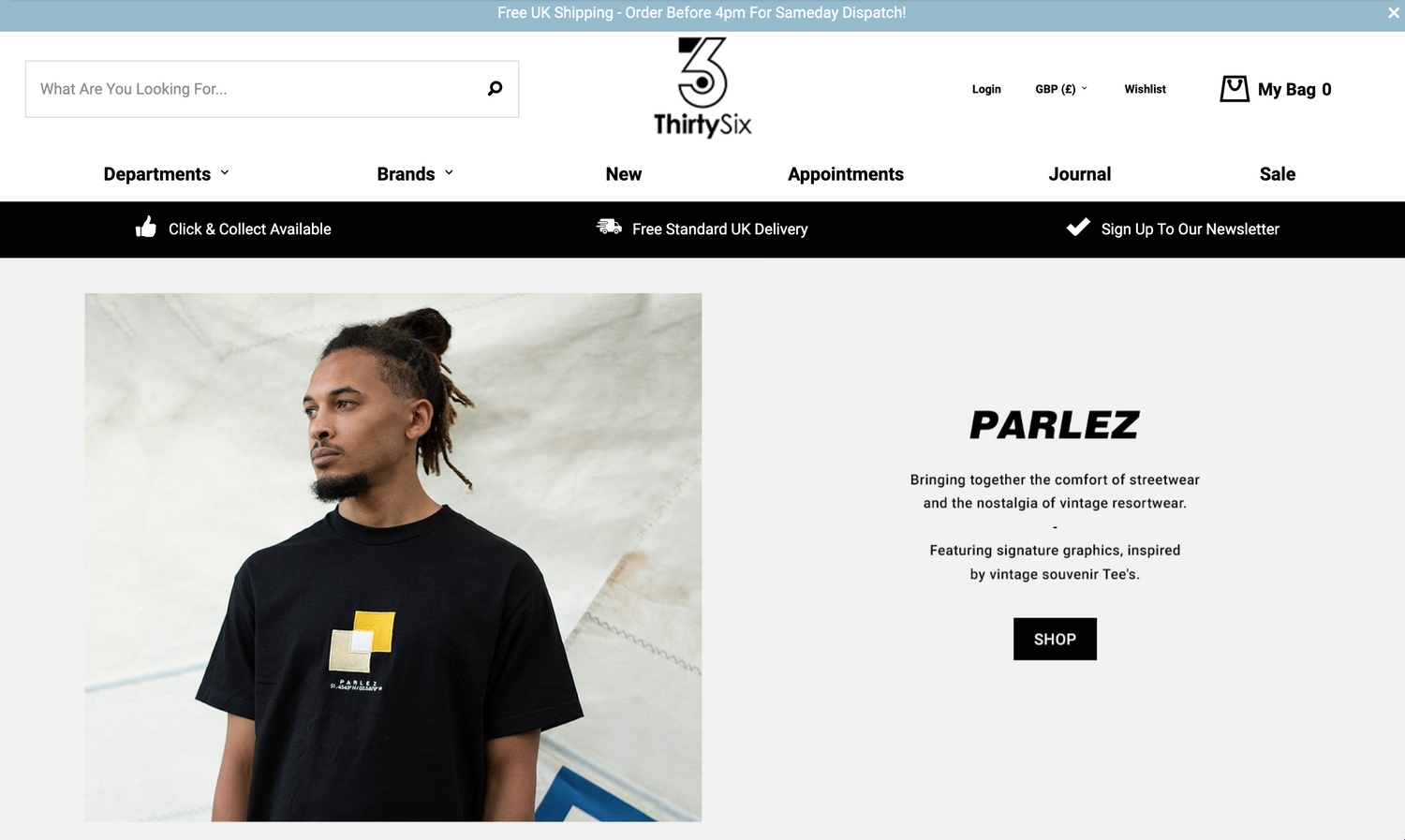 After showcasing the benefits of migrating over to the Shopify website platform, the client was keen to get started as soon as possible. With Christmas and 2023 fast approaching we decided to get the new website up and running ready for a January launch.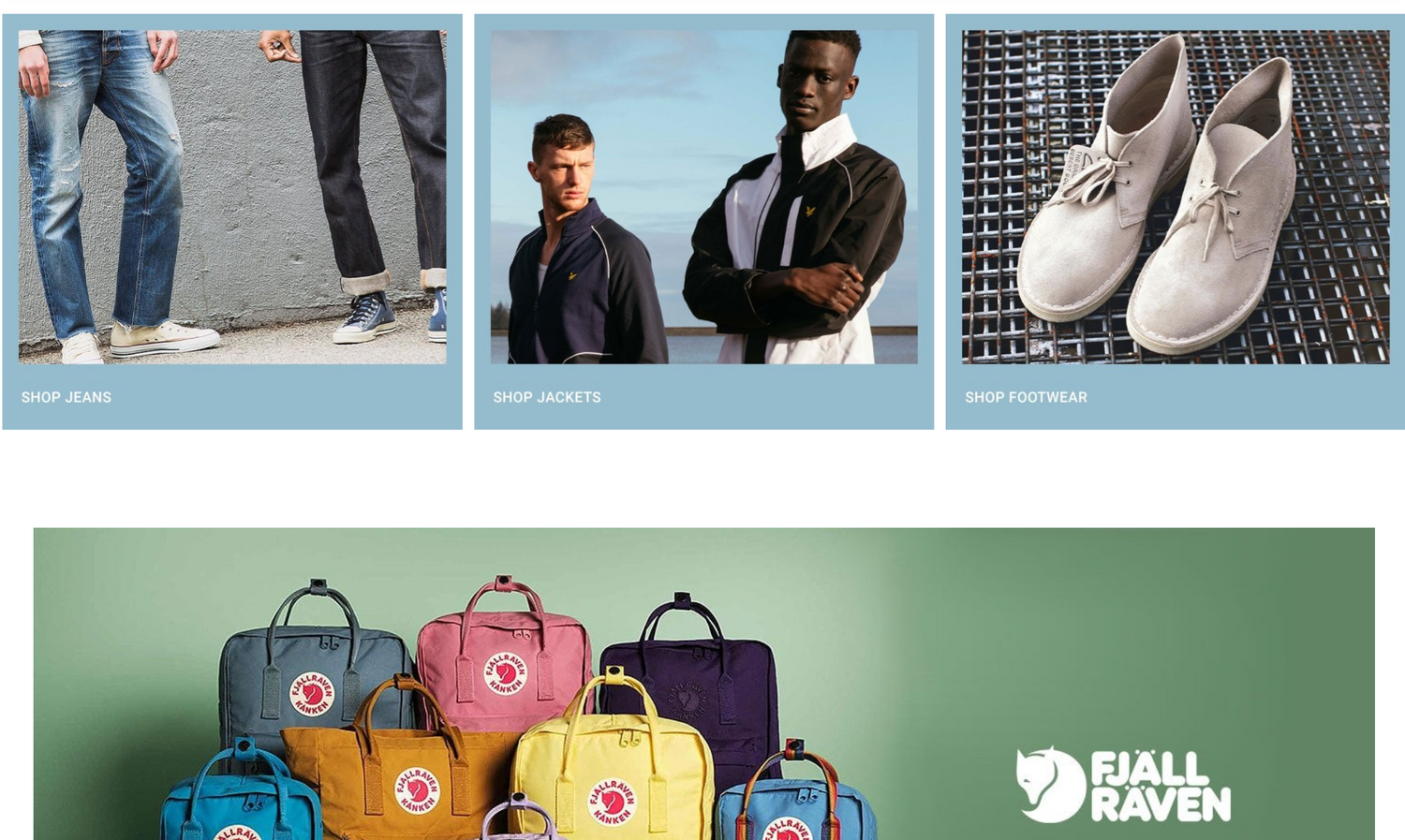 Visualsoft had designed a really nice looking website for them. The client was keen to keep a similar looking website design at this stage as his customers were familiar with the layout and branding.
What he wanted to benefit from was the flexibility and functionality that a Shopify theme would give him over and above what he had now.
What Shopify offered them was…
Existing Themes

Lots of pre-built themes to choose from. Choosing the right one is really important though.

Speed of migration

Migrating from one retail platform to another can be daunting. We're experienced in supporting this.

Experienced Support

Experience in both their existing website platform and Shopify helped smooth the transition.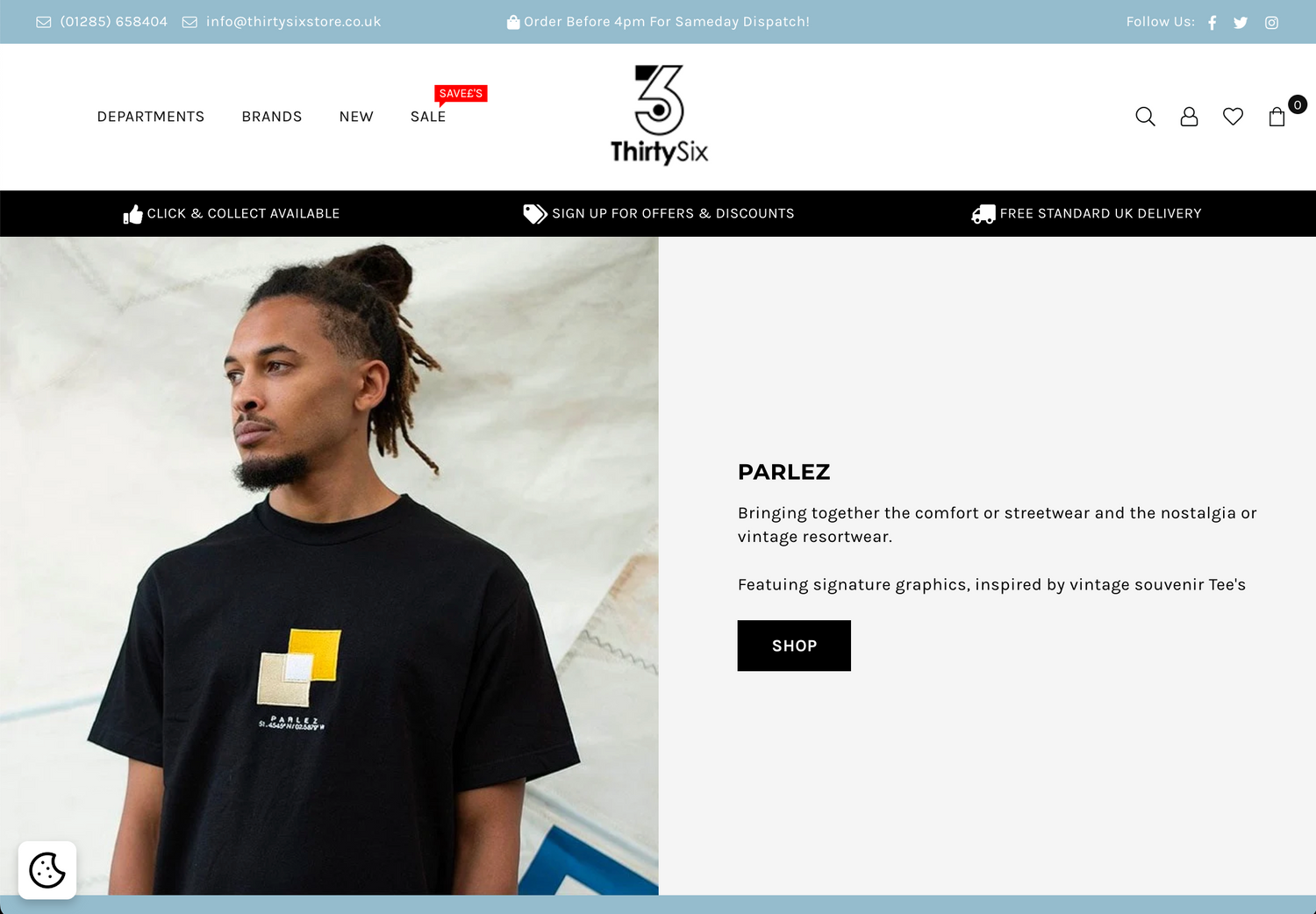 Design. Build. Go-Live.
Building the new ThirtySix Store around an existing theme design made launching a new website for them a much quicker project. After a little research we found a suitable theme that offered a whole suite of features and functions.
Next stage was then migrating the content over from Visualsoft to Shopify. Using the Matrixify.app service allowed us to migrate their content over with ease and pain free. We then worked closed with the Thirty Six team in redesigning a few of their key content pages.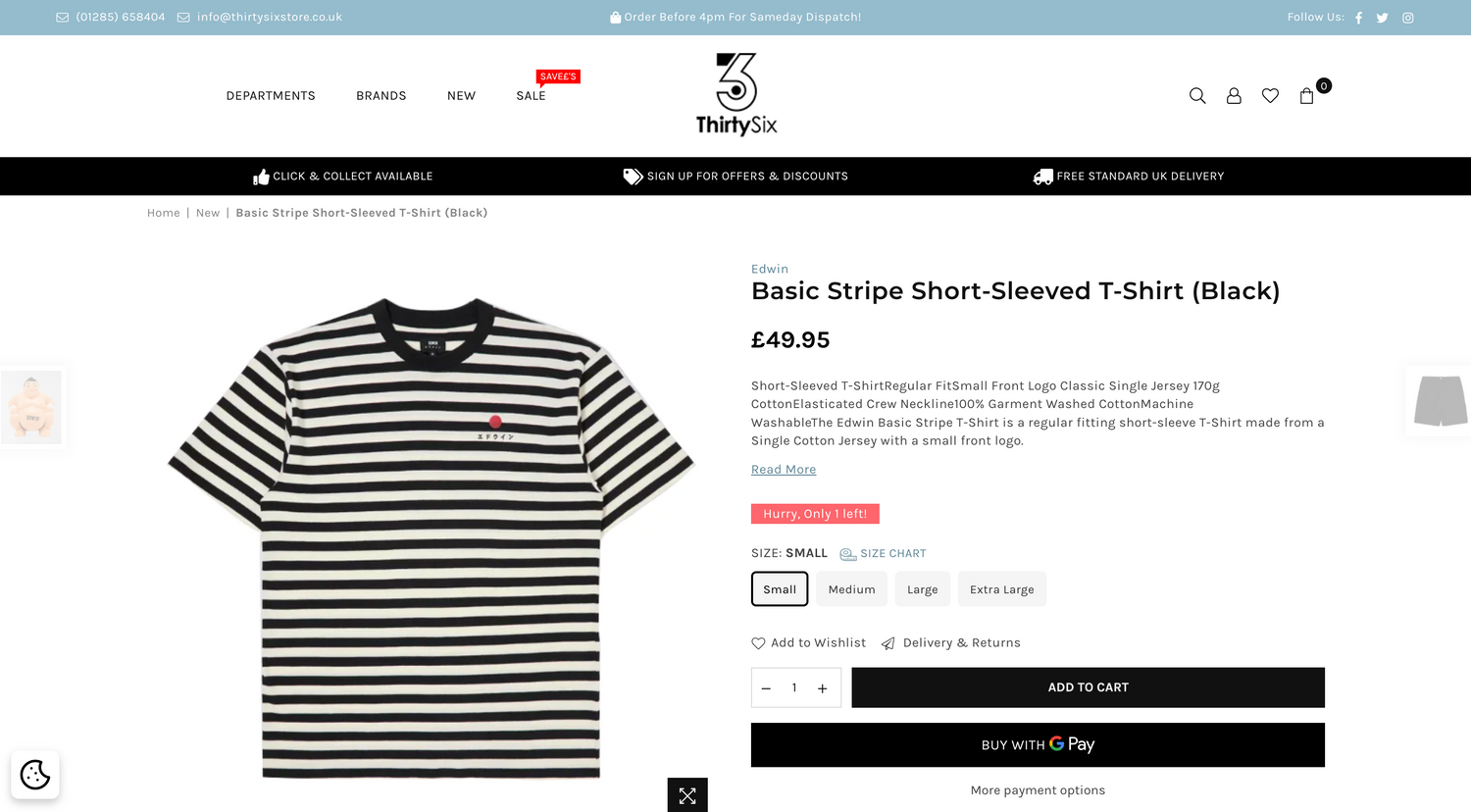 The final part of the project was in the education and training of how to use the Shopify retail platform to manage the website, products, orders and sales.
Recording short videos to give guidance to how to use the theme and the Shopify admin were really useful for Chris and his team.
Support Throughout
From being initially daunted by the thought of moving platform through to the pain-free launch of a new Shopify website, the whole migration project went really smoothly for Thirty Six.
We're looking forward to supporting Chris and the team in the future.
Chris Roche, owner ThirtySix
Testimonial
"We had been a Visualsoft client since 2014, but had seen our margins shrink as the cost of the platform had increased dramatically in the past few years. We had little interaction with our various account and growth managers, and felt Visualsoft was no longer the best solution for our ecommerce - the long-term contracts Visualsoft recommend also offer little flexibility.
We felt it was time for a change, and looked towards Shopify as our new ecommerce partner.
Our ecommerce was so tied up with the Visualsoft system it was quite a daunting step to make - but Nigel was fantastic at enabling this change with minimal disruption. He migrated our site to Shopify and re-established it's links with third-party sales platforms very quickly, all during a hectic pre-Christmas period. He was immediately approachable - he laid out a very simple schedule, what he would be doing and when, and clearly showed us how it would be implemented. I was particularly impressed at how smooth the transition was - our Visualsoft sites tended to be built over a period of months, our new Shopify site was ready to go in a few weeks.
In terms of functionality, our Shopify site offers everything our previous Visualsoft site did at a fraction of the price. It looks great, the customer journey is well thought-out and the admin system is very intuitive to use. Uploading new products is lightening quick and adding items to third-party sites couldn't be easier.
I would throughly recommend Nigel for any aspect of your ecommerce, and particularly if you are a current Visualsoft client looking to make the switch to Shopify. He knows the platform inside-out, has an excellent grasp of the wider retail landscape and is a dream to work with. Our new website is now up and running, and I'm confident we will quickly exceed the revenue our previous site was operating at, for a fraction of the cost."
Chris Roche, Owner, ThirtySix